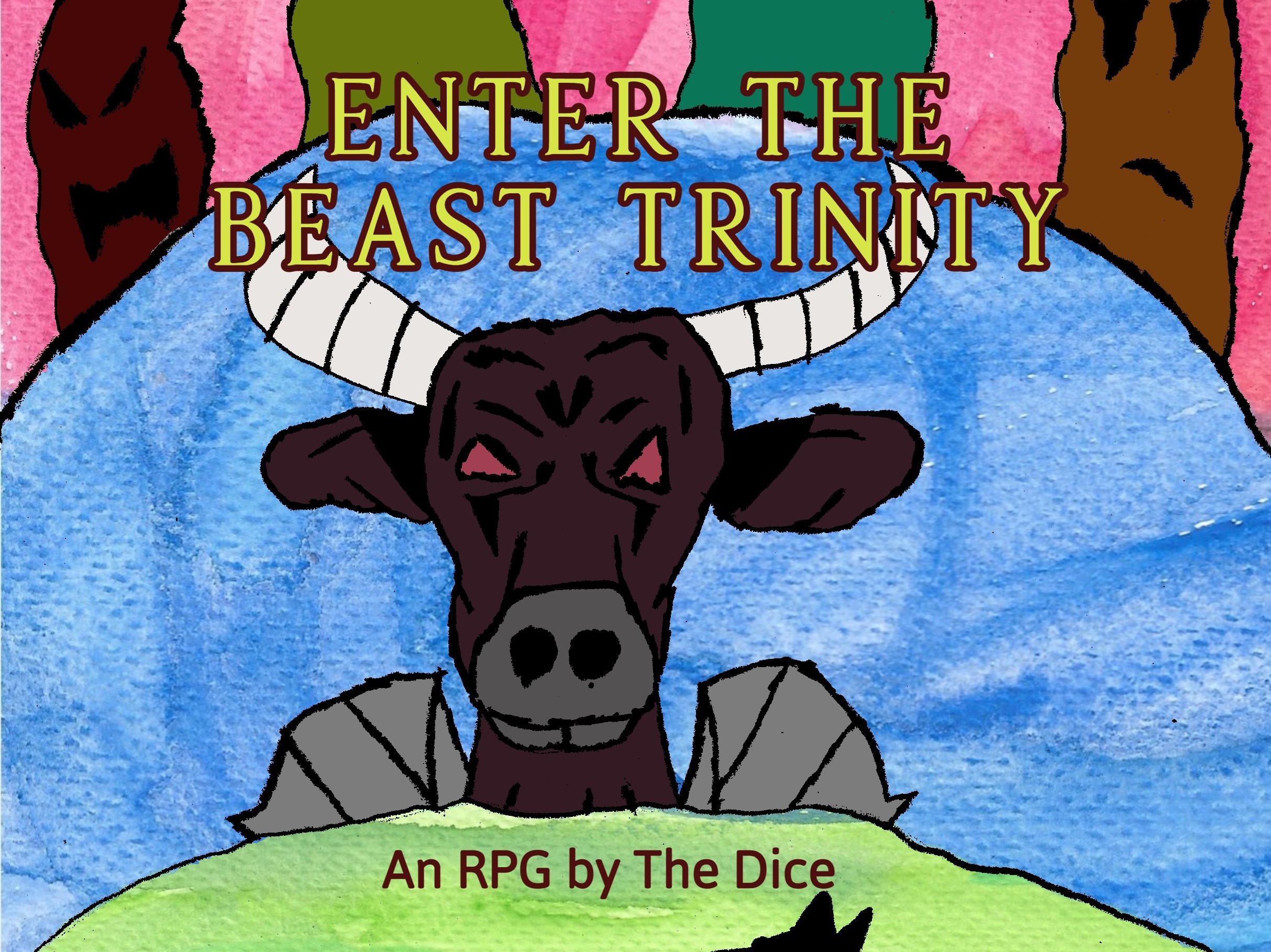 Enter the Beast Trinity
Get Ready for the Next Battle!
Enter the Beast Trinity is an animal folk fantasy fighting game for 3 players plus GM. You play a Beast Warrior, a legendary combatant from the history of the land of Chimaer, pulled out of your own time by the Consortium of Reapers. Form a trio of warriors, journey across many strange afterlives and try to conquer the King of Beast Trinity Championship!

The game is Illuminated by LUMEN for rules-lite, action packed fighting adventures. Bond with your team, explore your legend and ask yourself; why do you fight?

Lumen
LUMEN is an RPG system for action packed, power fantasy games. It uses a pool of D6s, three attributes and a core gameplay loop for fast, thrilling combat.
This game is Illuminated by LUMEN, based on the LUMEN RPG system designed by Spencer Campbell, Gila RPGs. This game is in no way affiliated with Spencer Campbell or Gila RPGs.
Itchfunding
Enter the Beast Trinity is Itchfunding! Help us make the book better and prettier!
£250 - The first goal is to comission new art for the six Warrior and a new cover.
£400 - We'll record an actual play podcast of an Enter the Beast Trinity one shot.
Game Design, Art and Layout by The Dice
The Dice are a trans plural system of at least ten members. They are based in London and work as a teacher. Their hobbies (not all shared) include painting, making clay models and TTRPGs. They are a collection of artists, writers and game-designers.
More detailed credits and additional attributions are contained within the book.
Pre-Order Adventures
We're working on three modular adventures for Enter the Beast Trinity. You can pre-order these adventures now. Either as stand-alones or as a bundle with the base game. The three adventures are:
The Deadly Demon Bay Bash - Featuring new weapons, new enemies, nine pre-rolled characters to pick from and details of new areas in the diabolical Demon Bay. Fight to become champion of the Bay and earn Beleth's favour; a chance at freedom.
The Towering Infinity - A side story adventure, re-contextualising one of our earlier works but for Beast Trinity. Instead of being pulled to the Worldport your trio has been pulled into the Ever-Collapsing Tower of Saeculum to prevent a dangerous villain from seizing the powers of time. Features a new Reaper figure, new enemies, a new area and new rules involving a Tower Block and PvP combat.

Escape from the Worldport - No more playing by their rules. You don't want to win the Reaper's favour; you want to break out of their Worldport, smash through their domains and gain freedom on your terms! Featuring new weapons, stats for using the Reapers in combat, nine pre-rolled characters and new enemies.
Content Warnings
Locations listed in the game include some bars and allusions to fantasy drug use. The example of play includes mention of casual sex (not depicted). None of these are aspects that the game requires you to include.

The game is about fighting and violence, this is an unavoidable part of the game. Discussion of the kinds of violence you want to include at your table is important.
Purchase
In order to download this game you must purchase it at or above the minimum price of $15 USD. You will get access to the following files:
Enter the Beast Trinity, spreads.pdf
20 MB
Enter the Beast Trinity, single pages.pdf
20 MB
Enter the Beast Trinity, Era Playbooks.zip
424 kB
Enter the Beast Trinity, Warrior Playbooks.zip
4 MB
Exclusive content
Support this game at or above a special price point to receive something exclusive.
Community Copies
If you're from a marginalise community or aren't able to pay full price feel free to claim a community copy.